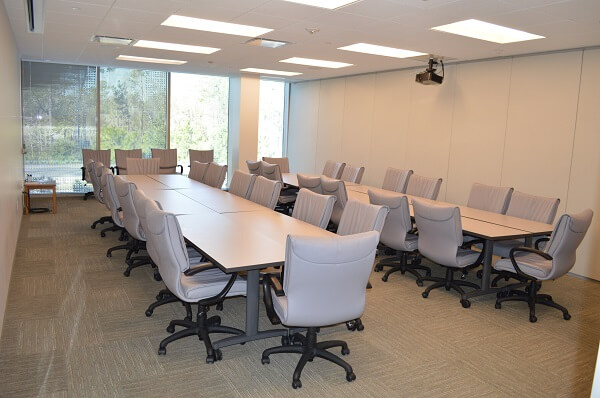 Watertree Conference Room (seats 25)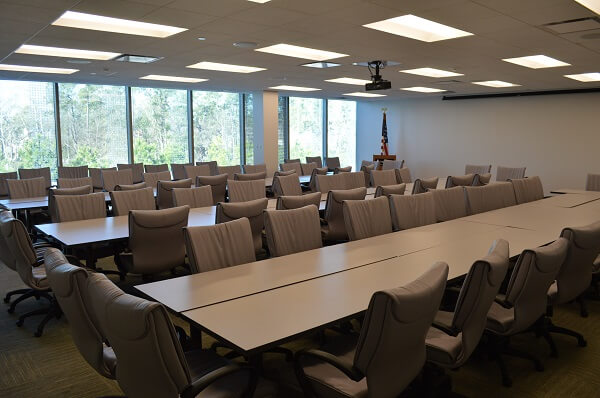 Lakeshore Board Room (seats 50)
Our complimentary meeting rooms are offered to Chamber members only. Members are encouraged to take advantage of accommodations for their conference meetings and appointments.
Scheduling and Availability
All room reservations must be made and approved by calling The Chamber at 281-367-5777. Reservations are on a first-come, first-serve basis. Rooms are available between the hours of 8:30 a.m. to 4:30 p.m., Monday through Friday. NOTE: Due to limited parking, please indicate the number of meeting attendees when making your reservation so that we may ensure availability to accommodate your group. Reservations may be made up to three months in advance.
Member Level Room Use:
Signature: 3 days per month
Executive: 2 days per month
Premier: 2 days per month
Professional 1 day per month
Community: 1 day per month
Business: ½ day per month
The Chamber is on a secured Wi-Fi network with HDMI and VGA display connections available. The Chamber's secured password is displayed in the conference room the day of your meeting. The Lakeshore Board Room (up to 50 capacity) and Watertree Conference Room (up to 25 capacity) are both equipped with a LCD projector (ceiling mount) and a retractable screen for viewing.
Both rooms (Watertree and Lakeshore) are equipped with wireless display adapters on the projectors.  These will only work with laptops utilizing Microsoft Windows. They will allow you to project via Bluetooth rather than connecting via HDMI cable. If you have a MacBook you will need to try to use an HDMI cable and HDMI adapter, but please note that these do not always work well in the Chamber's conference rooms.  We strongly recommend you test equipment prior to your meeting
Both the tables and chairs are on casters and can be rearranged to accommodate your meeting. However, any room arrangements changed from the original setup must be put back in the original arrangement before leaving. Both Lakeshore and Watertree Conference Rooms are separated with a removable air wall if more space is needed. No signs, posters, banners, tables, etc. are permitted in the public hall due to fire code. All activities must be conducted inside the conference rooms and doors must remain closed during all meetings. Please keep noise levels to a minimum. Loud music, speakers or microphones are not permitted. As a courtesy, when taking or making calls, please proceed to a private area so not to disturb other guests.
You are welcome to bring in food and beverages for your meetings. Complimentary bottled water and coffee will be available for your guests at no additional charge.