Add Your "Swag" To Our New Member Welcome Bags
Promote Your Business In Our NEW MEMBER WELCOME BAGS!
Advertise your logo and/or "swag" in our special gift bags to new Woodlands Chamber Members.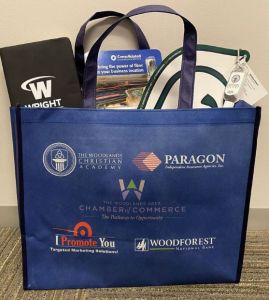 Unique opportunity to connect with 300+ members annually
Product placement limited to 25 businesses (2 per industry)
Welcome Bag logo limited to 4 exclusive businesses
Attach printed marketing to your swag for added exposure
The Chamber provides the bag, you provide the swag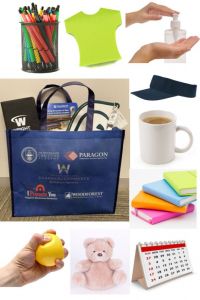 Be one of the first businesses to welcome New Members to the Woodlands Area Chamber of Commerce. By taking advantage of this opportunity, your logo or company "swag" can be a part of our warm welcome to all New Members.
We average 25+ New Members per month, many who are opening new businesses in our area. A new business needs support from existing businesses like yours. Whether they need office space, office supplies, meeting rooms, legal help, furniture, IT support, HVAC, landscaping, cleaning services or more, you can be the first business they call.
We will photograph your swag and announce your sponsorship of our New Member Welcome Bags on our social media sites.
You may include printed materials attached to branded "swag" items such as gift cards, coupons, tickets, pens, pencils, cups, hats, t-shirts, chargers, flash drives, mouse pads, hand sanitizer, custom note pads, calendars, stuffed animals, stress balls, etc.
If you would like to take advantage of this marketing opportunity please contact RoyceBrooks@WoodlandsChamber.org.
The cost to participate is $400 per year.
Kindly review the following guidelines.
1. Quantity needed: 300 total/80 per quarter.
2. No bags please. Bag is designed and provided by the Chamber.
3. Any printed material should be attached to a "swag" item.
4. Items should be delivered to the Chamber Offices pre-assembled "if necessary."
5. All submissions are subject to approval by The Chamber.
6. Must remain a member in good standing during sponsorship.